Eureka Springs
A Unique Ozarks Destination
Please visit our page sponsor
David Bell's CTO Anthology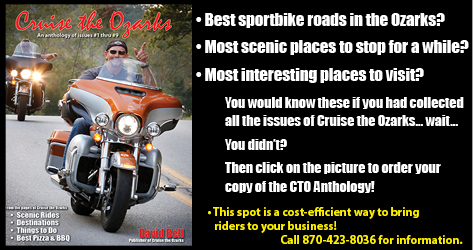 Ride Synopsis & Highlights:
Eureka Springs, Arkansas is one of the most popular motorcycle riding destinations in the Ozarks. Historically the site was believed by Native Americans and settlers alike to have springs bubling up with curative water... Healing Waters. This gave rise the Eureka Springs being called "the town that water built". Even before the city was officially incorporated bottled water was being sent across the nation under the Ozarka brand. And today, for riders, not only is Eureka Springs a wonderful destination, with unique businesses and attractions and a Victorian historic district, the road leading into and out of the city are among the best roads in the Ozarks. Period!
A visit to historic Eureka Springs' downtown should definately be on your bucket list.