Cruise the World-Famous Pig Trail Corridor - AR Hwy 23
Please visit our map page sponsor Pig Trail Harley-Davidson in Rogers, Arkansas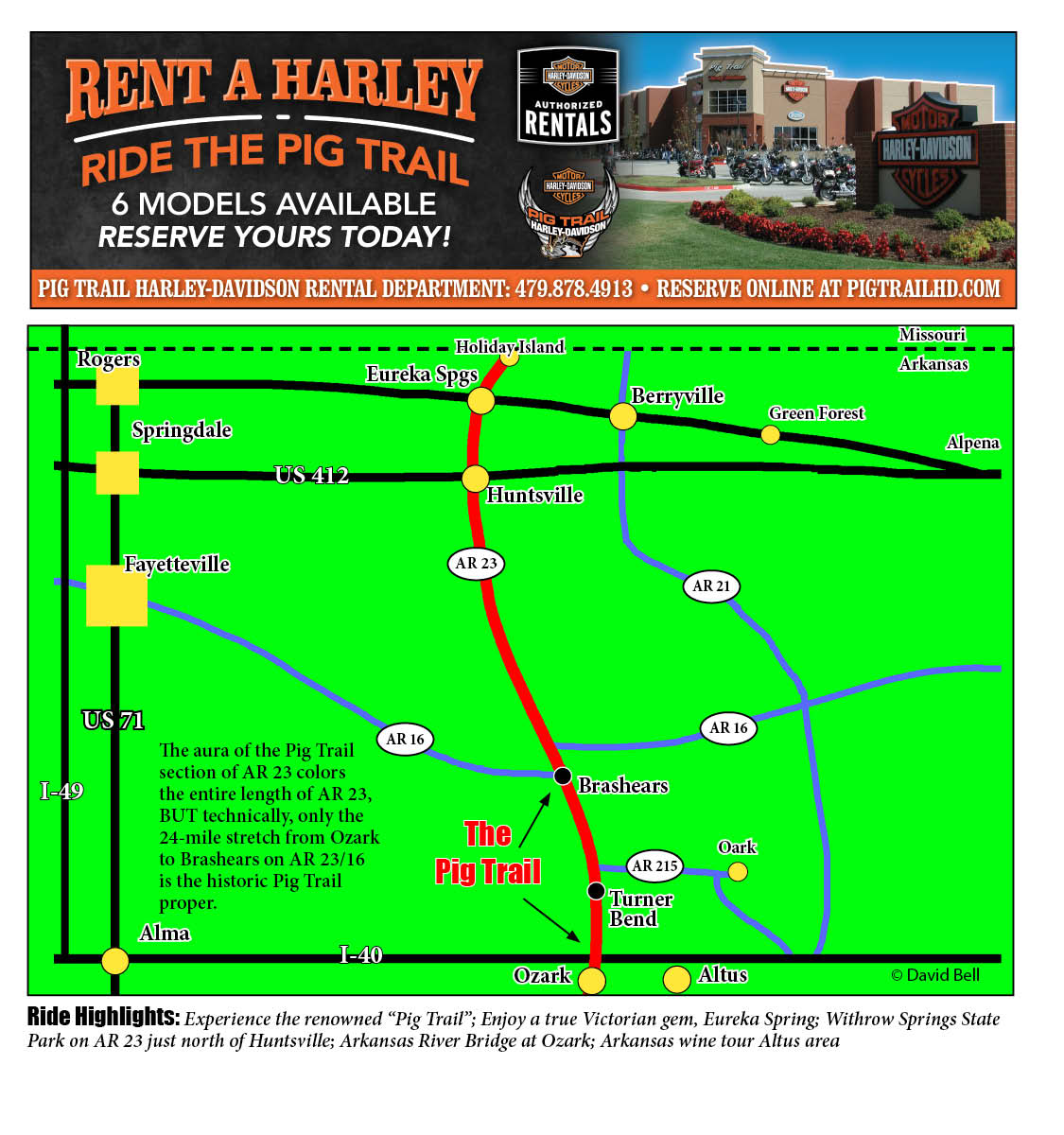 Let's Ride: "Cruising The Pig Trail Corridor"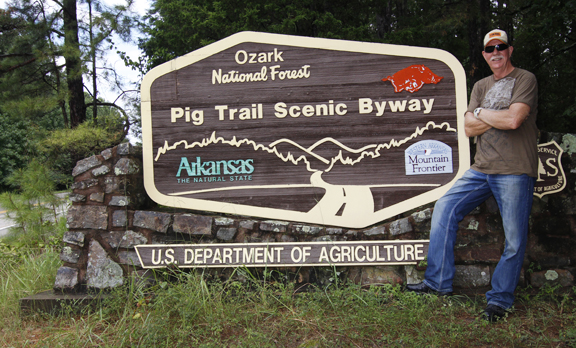 Lets set the record straight: The Pig Trail not the entire length of AR 23.
Back in the days before I-49 (formerly I-540) was constructed in the late '90s the main route to Fayetteville, Arkansas was U.S. 71, a wide, well-built two- and three-lane highway. But it was busy with heavy truck and auto traffic. Plus it was steep and winding and not at all an enjoyable trip in or on any vehicle. And that was especially true on Arkansas Razorbacks football game days. On those days, U.S. 71 was 50 miles of bumper-to-bumper traffic.
Arkansas football fans from central Arkansas who didn't want to take U.S. 71 to the game could take the back roads to Razorback Stadium. They got on highway AR 23 at Ozark/I-40 and headed north 20 miles to AR 16, which took them into Fayetteville.
How this stretch of AR 23 was given its unique moniker is open to debate.
It's 'The Pig Trail' either because the road is as crooked as the path a wild Razorback hog would make; or because it's the back road to the home of the Razorbacks. Regardless, the Pig Trail is a nationally known road, highly regarded by both riders and sports car drivers for it scenic beauty and wonderfully crooked pavement.
Historically and officially, only the 20-mile section from I-40 -- at Ozark, to Brashears at the junction of AR 16 -- is correctly referred to as the Pig Trail.
The Pig Trail is made up of a series of serious switchbacks and numerous extremely tight curves. All the while it runs, literally, through tunnels of tree foliage, which are especially gorgeous in the Autumn. This famous stretch of highway is so highly regarded it has received the well-deserved designation of 'Pig Trail Scenic Byway.'
A landslide closed a major portion of this famous road in 2015, but the state of Arkansas road crews went to work and cleaned up the blockage within a few months, and toward the end of the 2015 riding season the road was clear again.
Check out our photo gallery. David Bell, 'Cruise The Ozarks' publisher, has compiled images he has taken along the Pig Trail to provide you with a preview of what awaits you, as you glide along on this great ride! Click here to see all the photos: http://www.cruisetheozarks.com/gallery23.shtml