Ark. 23/St. Paul

The Place for Riders - (479) 677-2617 - Pig Trail Lodging, located on the nationally recognized Pig Trail Scenic Byway (on Ark. 16/23 east of the White River bridge at St. Paul). A delightful riverside venue for a night, a weekend, or longer on the northern edge of the Ozark National Forest. Fully furnished and equipped cottage with convenient access to great motorcycle riding. Also canoeing, hiking, trail-riding, 4-wheeler trails and Razorback Stadium–only 45 minutes away. Linda Grom and Terry Nichols, Innkeepers.
pigtraillodging.com
Berryville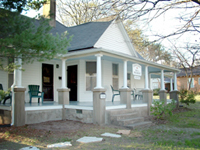 Genny Jane's Bed & Basket - 306 Huntsville Street (221 So.); Berryville, Ark. 72616; (870) 423-2474. Nestled in historic and quiet Berryville, Arkansas - but we're on one of the best motorcycling roads in the Ozarks - Ark. 221 South. We offers guests an alternative to chain motels and fast food restaurants. Enjoy a suite of two bedrooms, private bath, and comfortable sitting room. You are always our only guest. A breakfast basket is served featuring such delectable delights as homemade baked breads, fresh fruit, coffee, teas and juice. Relax on the front porch watching the world go by. Genny Jane's is a MUST experience for riders. Venture to Eureka when you want to mingle with other riders... but come back to your unique room when you want to really relax. gennyjane's webpage
Fayetteville

The Inn at Carnall Hall
765 N Arkansas Ave.; Fayetteville - Located on the NE corner of the University of Arkansas, The Inn at Carnall Hall was build originally in 1905 as the women' s dorm. It' s now luxury accomodations operated by the university. Includes Ella' s restaurant, lounge & private dining room.
Hampton Inn & Suites
735 S. Shiloh Dr. (near jct. of I-540 & 62); Fayetteville - Reservations 800-HAMPTON, local 479-587-8300. Convenient to U of A. Guest laundry, continental breakfast, jacuzzi rooms.