Welcome to Cruise the Ozarks, where you'll find the lowdown on motorcycle riding in the Ozarks! Plan your Ozark motorcycle tour with us!
The Ozark Mountains are THE motorcycle riding spot between the Rockies and the Smokies - especially northern Arkansas and southern Missouri... with hundreds of miles of great cruising roads. Our goal at Cruise the Ozarks is to help you make the most of your Ozarks riding experience. Take a look at the highway maps we have provided. These will give you a some suggestions on which roads to explore, especially if you have limited time to spend in the area.
Come enjoy the great roads across the Arkansas and Missouri Ozarks in 2014!
Summertime riding is excellent here in the Ozarks. Early Spring rains ruined alot of road trips earlier this year. Temps broke into the low 90s in June and July .... but lately temps have moderated and the touring and the sightseeing is cool, so now's the time to hop on your bike and see the best of the Ozarks!
Our Spring issue of our printed guide "Cruise the Ozarks" received rave reviews. We're very excited and grateful to the 90 businesses here in the Ozarks that placed ads in our Spring issue and placed their trust in us to help tell their story to you: our 50,000+ readers wondering where they can find the Best of the Ozarks! Well, you'll find these great sponsors in our magazine and here on our website. Please tell them you saw their ad and please tell them 'Thanks!' for helping to support motorcycle riding in the Ozarks.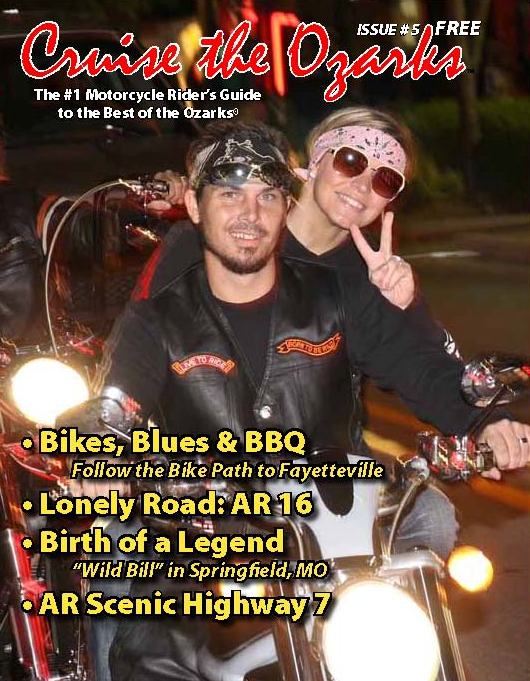 The Autumn 2014 issue of 'Cruise The Ozarks' rider's guide magazine is coming soon, loaded with great pictures and articles by Publisher David Bell.
Our Autumn 2014 issue will soon hit the streets, and once again it will be made available for free at Arkansas Visitor Welcome Centers all around the state, as well as bike shops and motorcycle clubs scattered throughout Arkansas and in Missouri, Oklahoma and Texas. Many bars, pubs, restaurants, resorts and campgrounds also give away our magazine. We're excited to be publishing our Autumn issue next week to showcase the best motorcycle rides to see the amazing colors of nature here in the Ozarks during the Autumn, as well as give a preview to the amazing Bikes, Blue & BBQ events in Fayetteville and surrounding areas this Fall.
"Cruise the Ozarks" is and has always been a free publication, but if you want a copy mailed direct to you when they're "hot off the press", please send a couple of bucks to cover postage & handling to: Cruise the Ozarks, P.O. Box 427, Berryville, AR 72616, and we'll ship a few out to you -- one for you and a couple for your riding buddies. But until then, enjoy planning your Ozarks adventure for this Spring, Summer and Autumn on this website: CruiseTheOzarks.com.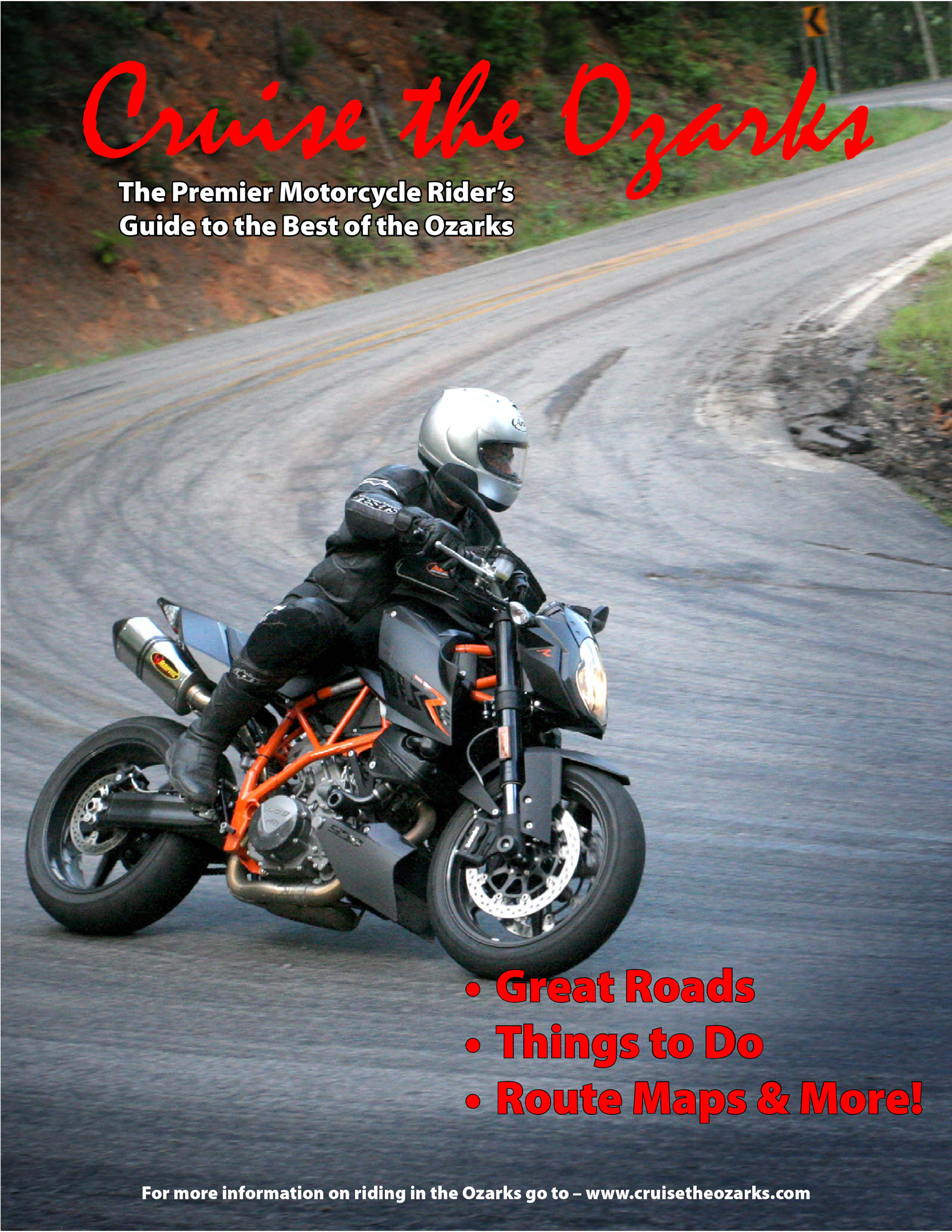 CRUISE THE OZARKS: The first three issues A compilation of the first three issues of David Bell's Cruise the Ozarks magazine is now available as a paperback book at CreateSpace.com. It is a book full of the stuff you want to know about when you are riding in the Ozarks. To order the 4-color paperback book, click here.
Here's what one reviewer had to say about David's new guide recently:
This is not only a great guide for motorcyclists but also has a lot of information about where to stay, what to do and where to eat for anyone visiting the Ozarks. That's what we like to hear because that's what Cruise the Ozarks is all about!
We Know You'll Love Riding the Ozarks!
Because we live here we have to admit we're biased ...but we feel this area of the vast region known as 'The Ozarks' is one of the top riding spots in the nation. We've planned these pages to help you make the most of your Ride to the Ozarks and give you a great overview of what the Ozarks has to offer. Of course there are plenty of other wonderful roads besides the ones recommended here. May we suggest DeLorme's fine Atlas and Gazetteer to fully explore the Ozarks if you want to take to the back roads - read that meaning our famous gravel roads. And be sure to contact us after your ride and e-mail us a picture of you and your riding group for us to post on our "Rider's Gallery".

Bikes, Blues & BBQ ... Another great event coming end of September! 400,000-plus of your biking brothers and sisters are all set to attend the 15th-annual "Bikes, Blues and BBQ" in Fayetteville in late September. Ground-Zero will be Fayetteville's Dickson Street, which will be closed to all but motorcycle traffic on Friday and Saturday evenings, allowing custom cruisers, baggers and tricked-out Harleys parade up and down Dickson Street. This year many of the cool events will expand into the Springdale area, centered around the Arvest Ballpark.

There will be literally thousands of old bikes, retro bikes, and one-of-a-kind bikes. All you'll want to do is pick a spot along Dickson Street, grab a beer and enjoy the parade. Last year we saw a lot of bikes we liked... a lot of bikes that we'd never seen before... and even a few bikes and rider costumes that brought a big 'ole smile to our face!

There was food, music, vendors and merchants, and plenty of rubbing elbows with our fellow riders having a great time all week. Most of all, there was a great vibe going on at all the venues, and we're counting the days until next month's event!

Besides the Dickson Street venue others have been developed over the years to make the BB&BBQ-experience a regional one. Last year on Dickson Street was the BB&BBQ HQ; the Main Beer Garden and Music Stage (just off Dickson); Vendors set up all along Dickson Street and at the Baum Stadium venue. The Arkansas & Missouri Railroad shuttled folks between the two venues; there were lots of locations in the area that hosted special events; and once again, Eureka Springs became a BB&BBQ experience all in itself: complete with stunt riders, burnouts, helicopter rides, Miss BB&BBQ and bikini contests, plus lots more.

You can see more photos in our gallery of past BB&BBQ's and we will be showcasing these here on CruiseTheOzarks.com and in our upcoming issue of our magazine.
Here are some past featured articles

Over the years David Bell, publisher of Cruise The Ozarks rider's guide magazine and website, has written and photographed for RoadBike, Rider, and Ride Texas motorcycle magazines, as well as other general interest publications. He has abbreviated these articles and has included them in his own publication.

David has also condensed them and placed them here on the website for your enjoyment, and to give you a look at the areas where you will be riding when you visit the Ozarks.

"I hope you, the reader, enjoy these previews, or have a great time re-living your own previous Ozarks riding experiences," Bell said recently. "My goal is to share with readers what I love about the Ozarks." Click here and enjoy!
Mount Magazine for Fun Mount Magazine is a magnificent ride. In fact, the 10 miles from Havana, on AR 10 up AR 309 to the state park. The July 2011 issue of Rider magazine published a piece I produced called The Peak to Peak Run. It describes a ride between the two highest peaks in Arkansas, Magazine, and Rich Mountain, home of the Queen Wilhelmina State Park over on the famous Talimena Scenic Drive. Click on the picture below to go to Rider's website page featuring the article.
Geology of the Ozarks

The geology of the Ozarks produces twisty, serpentine highways and roads and is what makes the area a veritable riders' haven, To understand the geological make up of the Ozarks, you need only look at the mountain tops; flat, mostly all the same elevation. In the distant past, this area sat at the bottom of a vast inland sea. It was later uplifted, producing a plateau with the highest point above mean level - Mt. Magazine - between the Rocky Mountains and the Smokies, not necessarily the highest point above sea level. Over the years wind, rain and rivers carved the ridges, hollows and valleys along which many of the winding highways, roads and hiking trails follow even today.
We have a long riding season in the Ozarks and all those extra days provide for more great riding than rain delays. But you will want to have rain gear with you in case you have to "ride on anyway". Check out the current weather over Berryville and the rest of the Ozarks HERE! Scroll down to the middle the weather page for a radar image.
The sponsors of this website are listed because they are motorcycle friendly and solicit your business. Lodging, cafes and restaurants, watering holes and other sponsoring businesses have been selected to help make your stay enjoyable... both on the road exploring and back relaxing after a day of riding. Please support these folks who welcome you to Cruise the Ozarks.
Take a look at these new links I've just been introducted to. I think you'll really enjoy them –– www.ridergroups.com – as well as the others I've listed in the "Related Links" window (in the top header).