---


CLICK HERE - See the finest classic cars at the
Route 66 Car Museum in Springfield, MO
THINGS TO DO IN THE MISSOURI OZARKS
Golden Pioneer Museum 35930 MO 86, Golden, 417-271-3300. Pioneer and Cherokee Indian artifacts in the small town of Golden.
Harry Truman Birth Place State Park 1009 Truman, Lamar, 417-682-2279. Birth place of President Harry S. Truman.
Gillioz Theater325 Park Central E., Springfield, 417-863-8481. Restored historic theater and site of many performances. Hearkens back to a more glamorous time of movies and plays.
Gay Parita On historic Rt. 66; A historic site on Route 66, near Halltown. A historic site on Route 66, near Halltown. The reconstruction of a significant 66-era service station was so long ago that it has itself now become a historic site in itself.
Laura Ingalls Wilder Home & Museum 3060 MO "A", Mansfield, 877-924-7126. Little House on the Prairie author Laura Ingalls' family homestead.
Air & Military Museum of the Ozarks 2305 E. Kearney St., Springfield, 417-867-7997. The mission of AMMO is the restoration, preservation and display of military memorabilia and history. Over 5,000 items on display.
Roaring River State Park South of Cassville: A 20-million-gallon-a-day spring flows out of the side of a huge cliffside, forming the headwaters of the river. Feature great fishing and trout hatchery.
Elephant Rocks State Park MO 21 between Belleview and Pilot Knob, 573-546-3454.Unique rock outcropping of granite, with huge, unusual formations strewn across the top.
Wonders of Wildlife Museum and Aquarium 500 W. Sunshine St., Springfield, 888-222-6060. The largest immersive wildlife attraction in the world. Features a 1.5-million-gallon aquarium adventure showcasing 35,000 live fish, Also mammals, reptiles and birds and huge wildlife museum.
NRA Sporting Firearms Museum 1935 S Campbell Ave., Springfield, 417-891-5346. This National Rifle Association museum is located inside Bass Pro Shops Outdoor World. Features outstanding examples sporting firearms from around the world.
Wilson Creek Battlefield 6424 W Farm Road 182, Republic, 417-861-9905. The Wilson Creek Battlefield Foundation protects and preserves the site of the first major battle of the Civil War in the West.
C Street Historic District The original downtown of North Springfield is a historic area around Commercial Street. It fell on hard time in the 20th-Century but today is an up-and-coming area, revitalized with trendy places to eat and shop. It's six blocks of fun, entertainment and dining opportunities.
Springfield History Museum Springfield: On the square of Springfield, features the Wild Bill-Dave Tutt shootout, history of Route 66, and lots of other Missouri, Ozarks and Springfield history.
Bass Pro Shops Outdoor World 1935 S Campbell Ave., Springfield, 417-887-7334. The largest sporting goods and outfitters in the world and includes both Bass Pro Shops and Cabela's.
Ralph Foster Museum 1 Cultural Court, Point Lookout, 417-690-2122. Museum is on the grounds of College of the Ozarks and features extensive coverage of Ozarks history, with the actual TV show "Beverly Hillbilly" Model T Ford.
College of the Ozarks 100 Opportunity Ave., Point Lookout, 800-222-0525. Highly regarded and well-known, well-funded College of the Ozarks is nicknamed "Hard Work U." where students work and can graduate complete debt-free. Excellent restaurant "The Dobyns Dining Room" is located in the Keeter Convention Center.
Dewy Short Visitors Center 4500 MO 165, Branson, 877-444-6777. The visitor center for Table Rock Lake Dam and the lake it impounds.
Butterfly Palace 4106 W MO 76, Branson, 417-333-2231. Five exhibits including the Educational Videos, Live Butterfly Exhibit, Banyan Tree Adventure, Mirror Maze and Living Rainforest Science Center.
I-Max Theatre 3562 Shepard of the Hills Expressway, Branson, 417-335-4832 An entertainment complex that's a one-stop venue for feature and documentary films, live shows, and more.
Water Fountain Show Branson: At the shopping venue along Lake Taneycomo, Branson Landing. Enjoy the waltzing waters at the regularly scheduled water and light Fountain Show.
Toy Museum Complex 3609 W 76 Country Blvd., Branson, 417-332-1499. Actually six museums in the complex that constitutes the world's largest toy museum.
Branson Ferris Wheel 3388 Green Mountain Drive, Branson, 417-334-1612. The huge 150-feet tall wheel with 40 gondolas (holding 6 people each) dominates the Branson skyline. It was formerly located at Chicago's Navy Pier and moved to Branson in 2016 when the Navy Pier replaced it with a larger version.
Bagnell Dam Lake Ozark/Osage Beach. The original hydro dam in the Ozarks, today impounding the Lake of the Ozarks. Historic tourist strip along highway leads across the Dam. Lake of the Ozarks was once referred to as "the Dragon of the Ozarks" due to its twisting shoreline.
Ha Ha Tonka State Park 1491 MO "D", Camdenton, 573-346-2986. Caves, sinkholes, sheer bluffs, a natural bridge and a large spring and lake and what else do you need for a great state park. How about the ruins of a European-esque castle on the grounds? This is Ha Ha Tonka Spring state park.
Alley Spring Grist Mill Historic Site MO 106, Eminence, 573-323-4236. This 1893 grist mill is still working and open for tours .Beautiful sitting and interesting history.
Round Spring Cave Campground Road, Eminence, 573-323-8093. The National Park Service campground is part of the beautiful Ozark National Scenic Riverway system.
Akers Ferry MO K and Current River. Privately owned by Akers Ferry and Canoe Rental and runs across the Current River, a Missouri National Wild and Scenic River in the Ozark National Scenic Riverway system. The ferry provides a river crossing over the Current Riverk a short but relaxing trip.
---
THESE TWO BOOKS MAKE THE PERFECT GIFT!
---
Order the "Cruise The Ozarks Anthology" paperback Ozarks Motorcycle Ride Guide today for that favorite rider in your life! Chock-full of ride maps, beautiful photos and stories about the best rides across the Ozark Mountains. Order now to get your copy.
Click here to order your copy today from Amazon.com!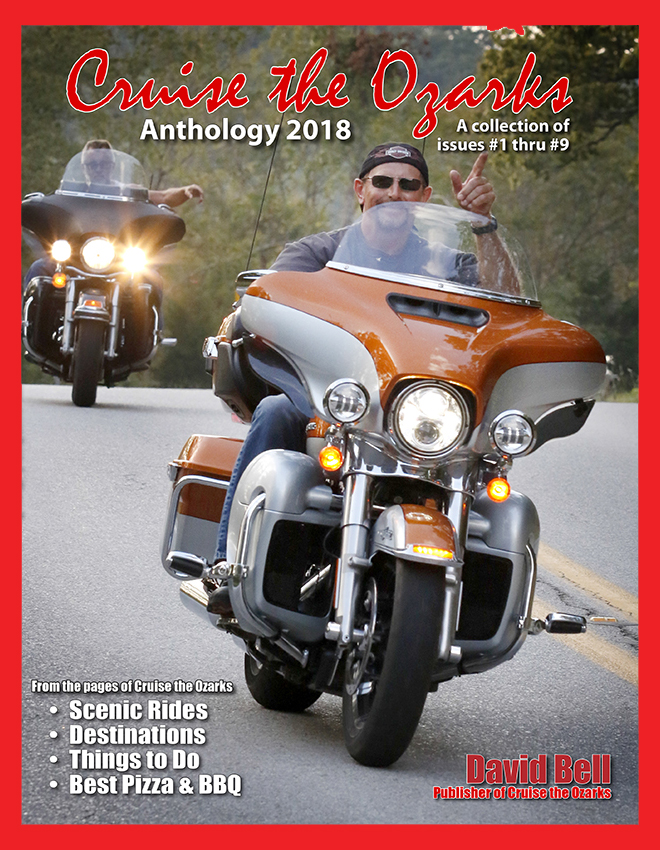 ---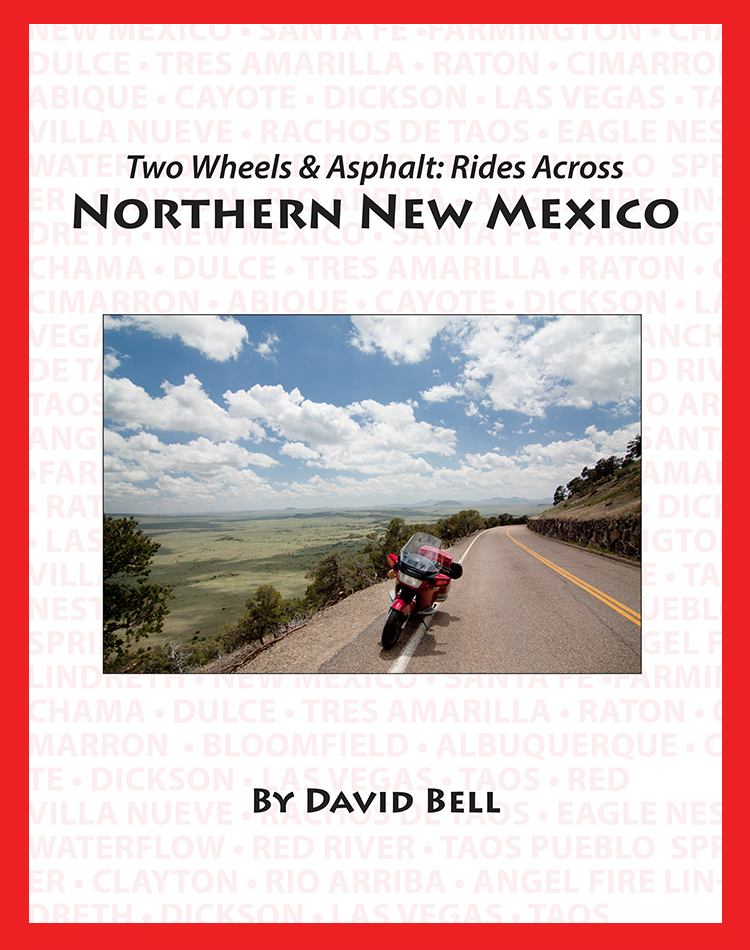 David Bell says: "I love riding in the Ozarks. The area is one of the top places to ride in nation. But I also really like cruising out to the Southwest. I have been to Northern New Mexico on several occasions and produced several stories for magazines on those rides. Here's a paperback book that's a compilation of these stories, in a photo-essay style that I think you will enjoy. The book covers Northern New Mexico and includes lots pictures and maps in addition to two stories about my rides in the area. It would look great on your coffee table. This book will make a wonderful gift for the rider in your life, or even for yourself. Go to Amazon to order this print-on-demand glossy book by clicking on this link today: More great rides... Check out the new ride guide from David Bell - "Two Wheels and Asphalt: Rides across northern New Mexico"... CLICK HERE to order it direct from Amazon.com