David Bell's new paperback book -- "Cruise The Ozarks Anthology" -- is now available for instant purchase online. Get your copy today!
For a free peek inside this new paperback click here to preview it on Amazon.com. Click on the "Look Inside" button at the top of the book cover and see how this book will help you plan your next getaway trip to the Ozark Mountains!
Prepare For Your Ozarks Motorcycle Adventure!
Discover the simple beauty of riding your motorcycle through the Ozark Mountains with "Cruise The Ozarks Anthology" by David Bell.
Research Before You Ride!
Enjoy touring the quaint Victorian village of Eureka Springs, the Dam Bridge Loop, the famous Pig Trail on Hwy. 23, travel the 215 to Oark, plus helpful, colorful maps to ensure you never get lost. Further, David Bell's book details riding trends, things to do in the Arkansas and Missouri Ozarks, sights to see along the best rides in the Heart of the Ozarks, majestic views of the Roaring River Loop, as well as the majestic Arkansas Scenic Highway 7 that takes you right down the middle of the Ozarks region.
See What You've Been Missing!
One of the Top 5 motorcycle rallies in the nation -- Bikes, Blues & BBQ -- is documented for you so you'll be ready for what you'll experience with 400,000 of your closest friends!
Where to find the best back roads of the Arkansas and Missouri Ozarks, and the best off-the-beaten paths to follow. Check out these sample pages: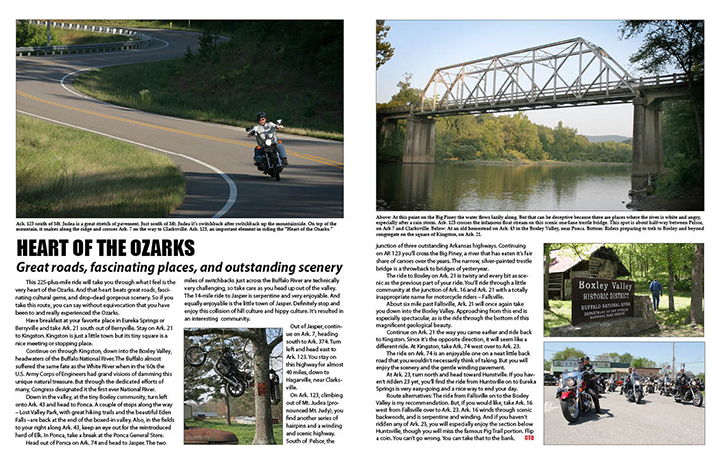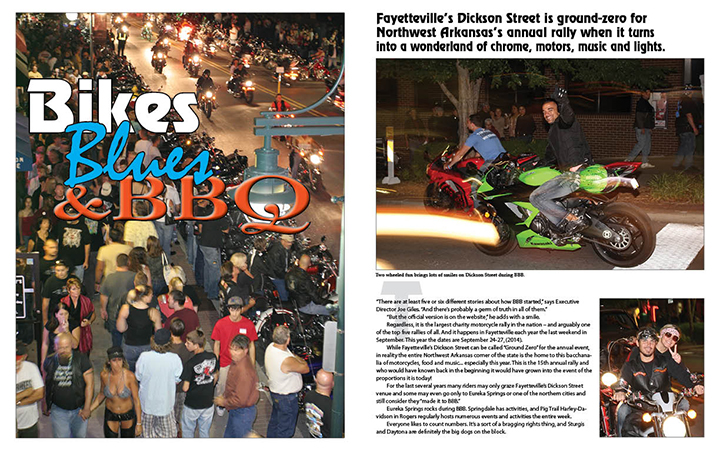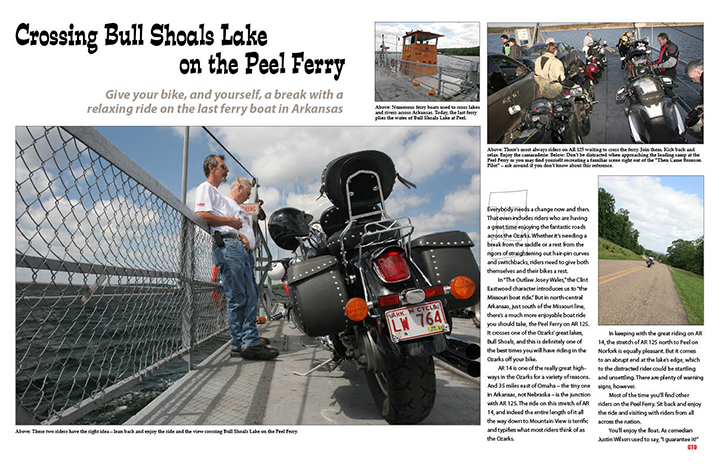 This book is a must have if you've been wanting to explore the Ozarks on your bike. It's an easy way to plan your next trip to the Ozarks by having this beautifully illustrated guide at your fingertips.
Click here to get your copy today!
The new Cruise The Ozarks Anthology brings together all the great stories published in Issue 1 through Issue 9 in a sturdy paperback format.
* Easy to use, order online fast
* Complete coverage of the best rides in the Ozark Mountains
* All the stories you love about Arkansas and Missouri roads
* Selected ride maps show you where to plan your rides

Why did David Bell publish this paperback book for his avid readers?
"I put this together so that I could share with others the places I love to ride in the Ozarks. I want others to enjoy this wonderful riding area as much as I do," he said.
"Inside these pages you'll find great places to ride to, great roads to ride on, and wonderful places to stop, get off your bike, and just enjoy the views."
Why did he start CTO back in 2011?
"I had written lots of stories for national motorcycle magazines about the Ozarks over the years. I wound up with lots of stories and photographs left over."
Bell has written for Rider Magazine, Ride Texas, RoadBike Magazine, as well as other general interest publications. The state of Arkansas has hired Bell to keep its own motorcycle vacation guide updated over the years.
But he wanted to reach riders directly. He wanted to share his photos and stories directly with other riders.
"My goal was to share my personal stories and pictures with riders who also wanted to cruise the Ozarks."
The first issue was centered on the quirky tourist town of Eureka Springs, but quickly he found readers were more interested in exploring all over the greater Ozarks region. So Bell changed the focus to an Ozarks-wide vision, and the rider's guide has grown every year since.
Readers contact David directly to tell him how much they enjoy his magazine.
"I think that readers realize this magazine is a labor of love, and that is who they want to get advice from about cruising the Ozarks... from an Ozarks' native who wants to share the area he loves."
He keeps it a high-quality glossy publication because he wants it to stand up to the competition.
"I want to be able to hold my head up when readers pick up my magazine alongside any other national motorcycle magazine," he said. "I want it to be something that they'll want to keep and not just throw away."
He has come across readers who have kept every issue; many have called to fill in voids in their collection.
"I think that is because they want to use it as a reference for planning their trips to the Ozarks."
This perfectbound paperback anthology has more than 112 pages of editorial content -- rides, destinations, select ride maps, and the history of the Ozarks in full-color splendor.
If you are an Amazon Prime member you can purchase this book at Amazon.com and get free Prime Shipping.
To get your free peek inside David Bell's new paperback click here to preview "Cruise The Ozarks Anthology" on Amazon.com. Click on the "Look Inside" button at the top of the book cover and see for yourself how this book will help you plan your next getaway trip to the Ozark Mountains!
---
The New Cruise The Ozarks T-Shirt Shop
---
Now you can order unique, one-of-a-kind T-Shirts available only from CruiseTheOzarks.com! Click on any of the T-shirts below to select size, color and design. Your order will be on its way to you lightning fast!
Get a vintage set of rare motorcycle prints. These limited-edition black & white prints will be available online only at Shop.CruiseTheOzarks.com!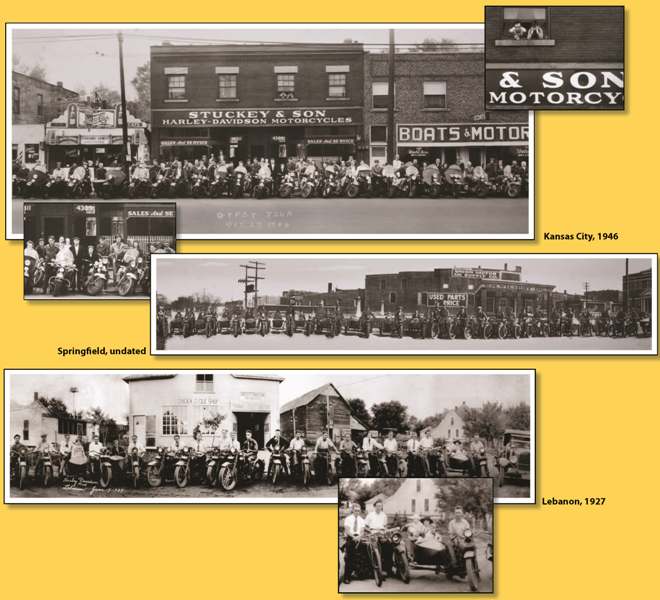 We discovered these three classic vintage prints, featuring Harley-Davidson motorcycle riding groups who enjoyed 'Cruising The Ozarks' in and around Missouri towns of Springfield, Lebanon, and Kansas City back in the early 1920s through the 1940s.
The black & white images are sharp and clean. These classic photos were shot with what is called a "banquet" camera -- a device which allowed people to pose in a long straight line while the photographer swiveled his camera to capture a crystal-clear print in sharp focus.
The Lebanon, Missouri motorcycle riders are shown lining up in front of an old garage (our favorite!). The Kansas City and the Springfield, MO, motorcycle riders are lined up along downtown city streets. The large size of film that was originally used back in the 1920s captured exact details of the brick buildings complete with classic advertising and company signs. All three images evoke a simpler time... and can you imagine how good those bikes were built to ride down those rough Ozarks roads back then! We were stunned when we stumbled across these beautiful prints. The photographs, which had been locked away for years, forgotten and dusty, had been tossed and turned, covered with wrinkles and crinkles and scratches marring the faces and bikes of those motorcycle enthusiasts proudly showing off their Harleys.
But now these prints have been painstakingly, carefully restored to their former glory and have been turned into works of art, recapturing a slice of motorcycle history you won't find anywhere else. We knew we just had to share these with readers of Cruise The Ozarks. We negotiated and secured the rights to offer our readers this special limited-edition set of professional prints of your own. But you must act now because supplies are limited.
You get all three black and white prints delivered right to your door. They come carefully packed in a sturdy mailing tube to protect your prints. You can display them as is, you can laminate them yourself, or you can have them mounted and framed by a professional frame store in your own hometown. We pay all postage and tracking costs through the US Postal Service, direct to your door.
These will look great in your "Man Cave" or in your garage. Hell, take them to work and mount them on the wall and show them off to the boss and co-workers! You'll be one of the lucky ones who owns them, because of this simple fact: whave secured the rights to sell just 1,000 sets of these prints at this special price. Once they are sold, this special price offer will be withdrawn.
The cost for each 3-piece set is only $89.00. Buy one set for yourself, and consider giving other sets to your friends as gifts. They make the perfect keepsake! But you must act fast and do it now, or you will miss out at this special price. Please allow 2-3 weeks for delivery. Remember: you buy the set of three prints and we pay the shipping and the free USPS Tracking. Your prints are sent unframed, unmounted, securely packed in a sturdy cardboard mailing tube to protect your prints.
Get your 3-piece picture set today! Order your 3-piece set of these amazing limited-edition prints today by clicking the link below, before they are gone for good.
Thank you!
David Bell
Publisher, Cruise The Ozarks
Order your set of 3 prints today for only $89.00! Your credit card or PayPal order charge will show as from "Johnson Publishing" and your set of prints will be shipped all as one, unmounted, unframed, and carefully packed in one sturdy mailing tube -- the best way to protect printed products shipped through the mail via the USPS. Once you receive your set of prints, we recommend that you allow them to uncurl for 2-3 days, and then they should be ready for you to take to your local art gallery or art frame shop to have them mounted in the frame of your choice. (Note: picture frames, matting, etc., NOT included in this offer). Free USPS shipping and tracking on every order. Order a set for yourself, and give sets as gifts!
Place your order for your 3-piece set today... only $89.00, free shipping!
If you wish to order your set of vintage motorcycle prints by mail, send your check or money order for $89.00 to:
Cruise The Ozarks
ATTN: Vintage Prints Dept.
P.O. Box 427
Berryville, Arkansas 72616
Arkansas Residents: Please add 5.5% state sales tax (Total: $93.90)
Allow 4 weeks processing/delivery time. Be sure to legibly print or type your USPS street address so we can include free USPS Mail Tracking to ensure accurate, timely, trackable delivery to you. Thank you!
---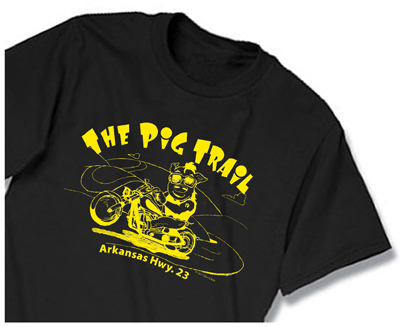 We're sorry, this item is out of stock.
Coming next year.... listings for motorcycle-related merch.... please stay tuned in 2019!
| | | |
| --- | --- | --- |
| Rider Accessories | Leather Goods | Pre-Owned Bikes |
| Bike Trailers | Books & Art | T-Shirt Shop |
| Vacation Packages | Motorcycle Tour Guides | Advertise With Us! |